A newsletter covering news and views on the federal budget, published by The National Center for Public Policy Research, 20 F Street, NW #700, Washington, D.C. 20001, (202) 507-6398, Fax (301) 498-1301, E-mail

[email protected]

, Web http://www.nationalcenter.org.


Issue #36 * April 15, 1999 * David A. Ridenour, Editor


---
Congress to Vote on Tax Limitation Amendment April 15

In the year 1057, Lady Godiva urged her husband Leofric, Earl of Mercia, to lower taxes on the people of Coventry. Leofric replied that he would do so only if his wife rode naked through the town marketplace.
Lady Godiva met her husband's conditions. Covering her body with her long hair, she protected both her own modesty and her husband's pride, permitting him to lower taxes without loss of face.
Lady Godiva's spirit lives on. On April 15, the date over 120 million tax returns are due, the U.S. House of Representatives will vote on a tax limitation constitutional amendment to make it harder to raise taxes. If approved, this amendment would require two-thirds approval of Congress to raise taxes, except in wartime and during national emergencies.
Last April, the Tax Limitation Amendment passed the House 238-186, just 47 votes short of the two-thirds majority needed to approve a constitutional amendment. The vote is too close to call this year.
Wall Street Journal writer Amity Shales's new book, The Greedy Hand: How Taxes Drive Americans Crazy and What to Do About It is an excellent source of tax information. She relates, for instance, that when Congress established the first income tax in 1913, a millionaire's income tax rate was 7%. Today a teenager starting out at McDonalds qualifies for a 7.65% tax rate.
Shales also tells us that Americans each year pay $1.48 trillion in taxes, an amount equal to the size of the entire British economy. U.S. federal taxes today equal one-fifth the U.S. economy -- the highest it has ever been in peacetime.
Shales also shares Tax Foundation data showing that, in 1957, an average two-earner American family spent a quarter of their budget in taxes, much less than it spent for food and housing. In 1998, a typical two-earner family spent nearly 40% of its income on taxes -- more than it spent on food, clothing and housing combined.
Rep. Joe Barton (R-TX), who is sponsoring the Tax Limitation Amendment with Senator Jon Kyl (R-AZ), says his proposal is necessary because our government structure is biased toward more and more spending. Barton points out that most government benefits target distinct special interests that have a strong economic incentive to band together to lobby for increased government spending. Taxpayers, he says, are different: They are spread around the country and find it difficult and uneconomical to band together to stop spending and tax increases.
In a 1997 poll, 70% of the public supported Barton's Tax Limitation Amendment.
Barton hits upon something political philosophers have long recognized. In the 19th century, John Stuart Mill wrote: "The 'people' who exercise the power are not always the same people over whom it is exercised." Quite so. And those who pay the taxes are not always those who sought spending increases.
One group that agrees with Barton is Americans for Tax Reform (ATR), a coalition of 90,000 taxpayers and taxpayer groups. ATR supports a Tax Limitation Amendment to the U.S. Constitution, noting that 14 states have tax limitation provisions, while 15 states will consider adopting them sometime in 1999.
The need for tax reform may be highlighted by these facts: According to the Tax Foundation, total 1998 tax collections in the U.S. will equal $2.667 trillion, equal to $26,434 for every household or $9,881 per person. It also is an increase of 5.7% over 1997 tax receipts and a 58.4% increase over 1990 tax receipts.
Compared to the actions of Lady Godiva, Rep. Barton's Tax Limitation Amendment is a moderate proposal. On April 15, Americans will see if it is moderate enough to gather the support of two-thirds of the Congress.

The Tax Bite on Popular Consumer Goods
Beer: 43% .
Bread: 31% .
Cars: 45%.
Cigarettes: 75%.
Electricity: 25%.
Gasoline: 54%.
Guns: 46%.
Hotel stays: 43%.
Liquor: 44%.
Pizza: 38%.
Restaurant meals: 27%.
Soda: 35%.
Telephone calls: 50%.
Tires: 36%.
Source: Americans for Tax Reform



Nothing written here should be construed as an attempt to help or hinder legislation before the U.S. Congress. Reprints of material in Budget Watch is permitted provided that original source is credited. ###


---
Return to Budget Watch Index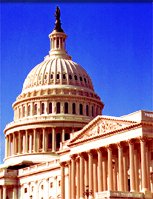 Return to The National Center for Public Policy Research Home Page